The IIK offers further education and training courses for studies and careers. The main focus is on language courses in German as a foreign language and other foreign languages as well as training courses for teachers of German as a foreign language. In times of digitalisation in all areas of society and further intensified by Covid 19, the sensible didactic implementation of virtual learning worlds in foreign language teaching is a central desideratum and challenge in equal measure. The immense speed of development of the Internet, Web 2.0 applications and apps means that teachers hardly have time alongside their teaching activities to research new, interesting applications and use them in the classroom. Here, many opportunities to make teaching more effective and participant-oriented remain unused. Accordingly, the goal of permanent further training of teaching staff remains obligatory for the strategic further development of our institute.
The aim of the project was to develop competences in the didactic use of digital media, apps and Web 2.0 applications and in the sensible use of smartphones and tablets for teaching German as a foreign language, covering as many teachers as possible, on the one hand to ensure and improve the quality of their own language course and further training offers, and on the other hand to offer as many teachers as possible a better position on the labour market through the newly acquired competences. The newly acquired competences in the area of teaching with digital media and with the help of smartphones and tablets are also to be incorporated into the conception and implementation of in-service training courses in which colleagues from other European countries participate who are themselves undergoing further training within the framework of European mobility projects. . Due to the forced digitalisation phase by Covid 19 and the postponement of the planned mobilities by more than a year, the creation of own digital teaching materials suitable for purely virtual teaching and face-to-face teaching as well as for newly introduced hybrid teaching was also aimed for as a new goal.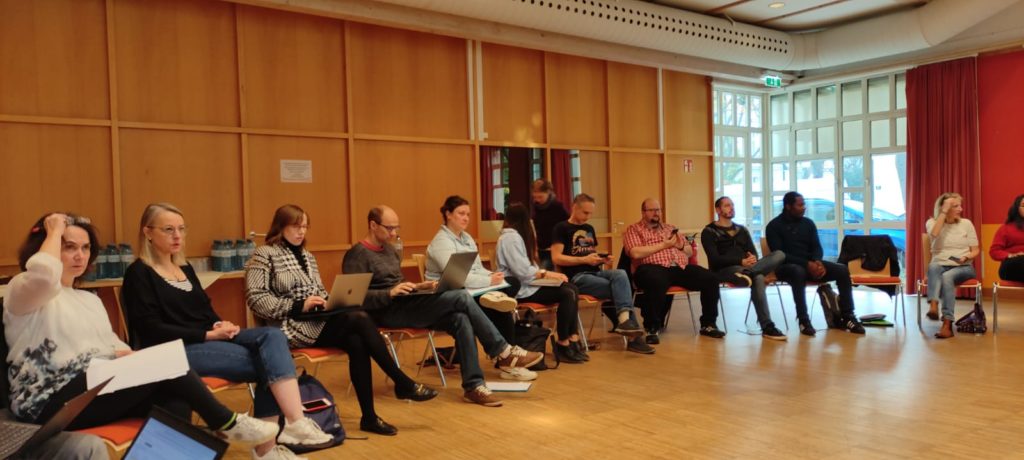 We conducted a one-week training course in Portugal on the topic of digital storytelling for four heads of the pedagogical staff and one freelance teacher from the further training area, who has been carrying out project management tasks there for years. This provided new impulses both for the language course area German as a Foreign Language and for the further training area, in that the new topic was tried out in workshops on site and implemented in digital teaching materials and can thus expand the curriculum of both the language course and further training area in the future.
For 24 teachers and pedagogical staff, we then conducted a three-day in-service training in Vienna on the didactically meaningful use of digital apps and Web 2.0 applications in teaching German as a foreign language, which was intended to give all participants input on didactically and methodologically meaningful digital applications for teaching German as a foreign language as well as for the area of further education in German as a foreign language. The focus was also placed on the participants' own creation of digital teaching materials, as this is an indispensable additional qualification for qualitatively oriented language teaching.
Concrete results of the training in Portugal at a glance: – Working with the apps Adobe Spark, Comica and Audacity, visualisation and implementation of digital stories and how these can be used for teaching and training.
The following apps can be used after the training: iMovie, MovieMaker, Google My Maps, Google Earth Studio, Adobe Spark (Post, Video, Page), Audacity, Comica and more. On the left, an example of a created DS.
Concrete results of the in-service training in Vienna: Working out and reflecting on tools and methods for flexible use in the classroom depending on the requirements – analogue-digital-hybrid, use and recognition of the advantages of digital tools and methods also in analogue lessons, development and exchange of materials for own language lessons, development of multimedia listening comprehension exercises for synchronous and asynchronous use in the classroom, getting to know audio sources (podcasts etc.) from Austria in particular.
As the in-service training was pushed to the very end of the project due to Cocid 19, further results will follow in the sense of internal dissemination, as internal in-service training on the topics is planned afterwards for the teachers who could not travel.
Material 1: the 10 best podcasts for teaching German as a foreign/second language
Material 2: Annotated list of apps and web applications for teaching German as a foreign/second language